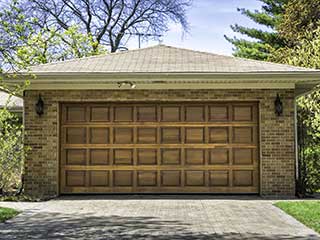 Every garage owner needs to have a door that they can rely on to provide the security they want for their property. A new garage door can offer you many things. It can keep your belongings and your home safe from thieves, or add some curb appeal to the house. Whatever the reason may be for you to need to get one, you'll be glad you contact Garage Door Repair Natick for help.
Modern Garage Door Models
When it comes to automatic overhead door systems, there's a huge amount of variety nowadays. Many major brands maintain a vast collection of different types of doors made of all sorts of materials and with varying R-value levels (signifying insulation capacity). Finding the best garage door model for your home can be difficult, but it's a process that can be made easier when you give Garage Door Repair Natick a call. Get a free estimate on a new overhead garage door and find out about all the different Clopay, Raynor, Windsor, and other brand name models available today.
New Garage Door Opener Services
What makes a garage door automatic? A device known as the 'opener', that's what. This is an electromechanical motor that connects to the door via a drive system and takes over the opening and closing of it. You can control modern Genie and LiftMaster garage door openers (to name a couple of major brands) using WiFi-enabled devices like tablets or smartphones, or you can use high-tech remote handsets or wireless keypads. The choice is up to you and your preference and budget. You can choose from a range of affordable chain drive opener models and ultra silent belt drive units to find a device that perfectly meets the needs of your garage door and your home.
Same Day Repairs
It's only natural for things to go wrong with a system as complex as an automatic overhead garage door. Broken spring repair is a common service requirement that most garage door owners come to need eventually, due to the fact that the springs on your door are its muscles. That means that they're under the highest amount of stress every time the overhead door opens and closes. If you find that the garage door is not opening or closing fully, or at all, spring or opener repair may be in order. Whatever the case may be, know that you've got a nearby service team to call in Garage Door Repair Natick. The same day service policy maintained here means you'll get a fast response regardless of what day of the week it is.
Available Sunday Through Saturday
Whenever you find yourself in need of help, it's always good to contact overhead garage door service specialists close to you. Location is important with things like this. You want the service technician to arrive as quickly as possible, right? Reaching out to Garage Door Repair Natick for help with anything from broken springs to opener troubleshooting is a great way to ensure the problem gets fixed quickly. And for a fair price too. The same goes for those looking to get a new garage door opener or a new overhead door installed. Get in touch with us using our service hotline or the scheduling system on this website for a free estimate on new garage doors or any other service need you have.
Other Related Advice
How do I check the garage door bottom seal?
Checking for light or drafts of air along the bottom seal is one way to test, but some rips and wrinkles might be too small or uneven to notice this way. The most reliable method is to pour or spray water against the outside base of the garage door, and then check the floor on the other side to see if water is getting through. Another common way is to turn the light off inside the garage and close the door fully. Doing this during the day will make sunlight peer through any tears or pinpricks in the seals. You'll have no trouble seeing the damage.
How do I measure garage door height and weight?
Measuring a garage door's dimensions is easy; just use a tape measure to take down its width and height. To find out its weight, either manually lower the door very slowly onto an analog scale (or pair of scales, for a double layered door) or take down the height and width measurements and material type and use an online calculator. Of course, before a new garage door installation it's recommended that you have professionals do the measuring work. This will help to ensure your new door will fit perfectly and get installed correctly.
What does garage door installation involve?
If your garage already has a set of tracks and a housing device for the springs, installing a new door is simple, if strenuous, work. Take down the track measurements and spring and opener capacities, procure a door that matches them, and raise it up to slide the rollers into place along the tracks. If you've never had an overhead garage door before, you'll need to start by measuring the garage entrance, installing a pair of tracks, and working from there. It's obviously recommended that you hire professionals for that. Someone like us, perhaps.