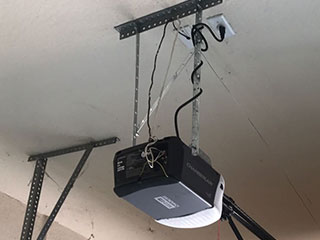 A good opener makes a huge difference, as it can allow your garage door to operate more smoothly and safely. Rather than causing the panels to rattle and clank as they move along the tracks, a good motor unit should be able to move the door quickly and quietly. This device also keeps your property more secure. Modern models use all sorts of technological features to make your home less vulnerable to burglars and thieves. Garage Door Repair Natick services and installs openers from top industry brands like Craftsman, Linear, and Genie. Anything from sensor misalignment to gear and trolley replacement is available.
Garage Door Opener Installation
There are many different options and models there on the market these days. You're not expected to be a connoisseur of garage door openers, but the technicians here at Garage Door Repair Natick certainly are. With more than a decade of experience installing and repairing these units, our experts can guide you at every step of the way to ensure you end up with the right model for you. There are plenty of things that you'll need to consider, like whether you'd like a silent belt drive model, a powerful chain drive unit or a fast direct drive opener. You've also got all sorts of advanced features to choose for your new overhead garage door opener. This includes battery backup systems, Wi-Fi compatibility that allows for smartphone control, and digital locks and rolling code technology.
Keeping It Working
After you get a garage door opener installed, you'll probably want to get the most out of it. You'll also want to ensure that your automatic garage door opener keeps working reliably for years to come. All complex systems can run into problems over time, and this type of motor unit is no different. Belts can tear, chains can break, circuit boards can malfunction, and safety sensors can become misaligned. Garage Door Repair Natick can quickly solve all these problems and many other ones.
Garage Door Opener Remote Not Working
If you're trying to open your automatic overhead door and find that you're unable to, you may have a problem with the remote. Chamberlain garage door opener models, and ones made by LiftMaster, Genie, and other major brands, usually have self-diagnosing tools to tell you what the problem is. Provided that the issue is with the opener and not the remote itself. If you're able to use the wall switch to control the opener, you'll need to check the remote for problems. Be sure to first replace the batteries, as you'll be surprised how often they're the ones at fault. If you find yourself in need of a new remote, or remote repairs, know that Garage Door Repair Natick offers this type of service.
Garage Door Opener Troubleshooting
Speaking of figuring out problems, while your LiftMaster opener (or another brand) will have some instructions in the owner's manual about what to do regarding certain error messages, some automatic opener problems will require help from experts. Preferably, nearby experts, as you don't want to wait to be able to use your automatic garage door again, now do you? Well, Garage Door Repair Natick specializes in providing thorough opener repairs to homeowners in all nearby cities. Whether it's the motor gear that broke, the logic board that's malfunctioning or the drive system acting up, you can leave it to us to find and apply the solution.
Same Day Opener Repairs
Problems with the automation of the door will frustrate you to no end. Dealing with them can be complex. It can even pose some risks, depending on the problem. Looking for the closest garage door opener repair services to Natick? Then you'll be happy to learn that your search is over. Garage Door Repair Natick offers all the opener services you may need, including the installation of new models and troubleshooting and repairs. With us, you always get a fast response on the same day you call, even if that day is Saturday or Sunday.
Other Related Advice
How long do garage door openers last?
The more you use an opener, the faster it will wear itself out. Additionally, an opener with more than enough horsepower to raise your garage door will last much longer than one that barely meets the requirements. Assuming a well chosen opener with average daily use, you can expect a lifespan of about 15 years. If you make sure your garage door opener undergoes regular maintenance (i.e. lubrication of moving metal parts and occasional adjustments) it can last even longer.
Why is my garage door remote not working?
Often, a problem with a garage door remote control actually turns out to be a problem with the opener itself. A faulty antenna or a software corruption can both cause your opener to fail to pick up or read the handset's signals. If the remote itself is the problem, and the issue isn't as simple as dead or improperly installed batteries, then it may need to be repaired or replaced. The problem can also be caused by certain power malfunctions. The circuit board's wiring can detach or some wires can fry, leading to miscommunication.
What are some useful garage door opener troubleshooting tips?
If your garage door opener has a self-diagnostic system (those from LiftMaster and Chamberlain usually do), then you can just cross reference the blinking lights with the codes in the owner's manual or online. Otherwise, you can try unplugging the opener and plugging it back in, and checking the drive system for obstructions. Try looking at the LED's on the garage door sensors to see if there's an obstruction or misalignment. Don't guess what to do. If you're not sure, get a professional to take a look.
Let our team take care of it for you!

Garage Door Roller Repair

Belt Drive Opener Installation

LiftMaster Garage Door Maintenance

Garage Door Extension Spring Installation