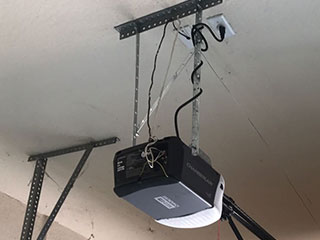 A good opener makes a huge difference, as it can allow your garage door to operate more smoothly and safely. Rather than causing the panels to rattle and clank as they move along the tracks, a good motor unit should be able to move the door quickly and quietly. This device also keeps your property more secure. Modern models use all sorts of technological features to make your home less vulnerable to burglars and thieves. Our team installs, maintains and repairs openers from top industry brands like Craftsman, Linear and Genie, and we can handle any type of problem these devices can experience, mechanical or electrical.
Helping You Find The Right One
We know how many different options and models there are on the market these days. We don't expect you to be a connoisseur of garage door openers, but our technicians certainly are. With more than a decade of experience installing and repairing these units, our experts can guide you at every step of the way to ensure you end up with the right model for you. There are plenty of things that you'll need to consider, like whether you'd like a silent belt drive model, a powerful chain drive unit or a fast direct drive opener. We'll also recommend special features that are worth investing in, like WiFi compatibility and a backup battery system.
Keeping It Working
After you get a garage door opener installed, you'll probably want to get the most out of it, and ensure that it keeps working reliably for years to come. All complex systems can run into problems over time, and this type of motor unit is no different. Belts can tear, chains can break, circuit boards can malfunction, and safety sensors can become misaligned. Our technicians can quickly solve all these problems and many other ones. We know exactly how to handle any type of issue your opener can experience.
Give Us a Call Today
If you need to have a broken motor gear replaced or if you want to have a new opener installed, there's no one better to call than our team at Garage Door Repair Natick. We'll gladly assist you with whatever you need.
Let our team take care of it for you!

Garage Door Roller Repair

Belt Drive Opener Installation

LiftMaster Garage Door Maintenance

Garage Door Extension Spring Installation