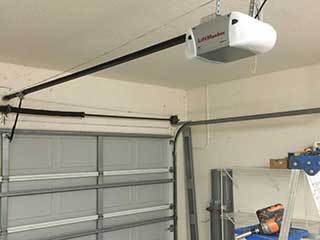 Accidents involving your garage door system can be incredibly dangerous. It's better to avoid them whenever possible. That's why regular garage door maintenance is important. It allows you to delay the onset of all sorts of problem. Proper maintenance also prevents accidents by nipping problems in the bud. While some things can be out of your control, with the right maintenance routine, you'll be able to prevent a whole slew of garage door problems. The service appointments Garage Door Repair Natick provides can do more than prevent problems. Let us help you get the most out of your overhead door.
Checking The Garage Door Parts
Wear and tear is part of owning a garage door. It's unavoidable. Every time the panels move up or down, a lot of different garage door parts experience stress and become slightly more worn. The moving metal components are particularly susceptible to this type of damage. It's therefore important to have the rollers, hinges, and springs lubricated often, to reduce the friction that causes them to wear out. Garage Door Repair Natick has lots of information to share. The technicians are happy to provide it during the maintenance service while checking the tracks and adjusting spring tension.
Keep Your Garage Door Balanced
Your garage door springs are bound to start weakening as time goes by. As a result, the door can gradually become unbalanced. This isn't just a safety risk, but a security concern as well. An unbalanced garage door won't open or close all the way. It may also not be able to stay open when it does move up. Testing the balance of your door and adjusting the spring tension accordingly can solve this problem. Of course, garage door springs can pose some risks, so don't attempt to adjust them on your own. Spring adjustment will also reduce the working strain and will make these garage door parts and other ones last longer.
How Long Do Garage Door Springs Last?
The answer depends on the type. Torsion springs tend to last about double the time that extension ones do. About ten thousand cycles compared to five thousand. Each cycle represents a single opening and closing of the garage door. This is owed in part to the way garage door torsion springs work. They twist and unwind instead of stretching and contracting. That means less wear and tear. But they're also thicker and more durable and flexible. Of course, this life expectancy is calculated with the caveat of regular spring maintenance. You see, torsion springs live up to their full potential with regular garage door lubrication maintenance, and occasional tension adjustment. Lubrication helps protect them from friction damage. Tension adjustment ensures they're not overstraining. Garage door maintenance can make your springs last for as long as they can..
Garage Door Makes Noise
If every time you open or close the garage door it makes a lot of noise, some lubrication maintenance is in order. By applying white lithium grease or silicone-based spray to the moving parts, it's possible to lower the noise output. The garage door rollers and hinges could use this type of maintenance. Garage door torsion springs also need lubrication. Any metal part that moves suffers from friction and can do with some lubrication. The garage door tracks should not be lubricated however, contrary to popular belief. This will make them accumulate sticky residues and will have an adverse effect on the smooth movement of the garage door. The rollers - yes, the tracks - no.
Maintaining Garage Door Safety
Your garage door opener comes with special features that ensure it doesn't accidentally close the door when it shouldn't. The garage door sensors detect obstacles and prevent the opener from closing. There is also an auto-reverse feature that reverses the garage door's movement upon encountering resistance. These mechanisms must function properly at all times, obviously. That is testing and adjusting them occasionally is important. Part of the maintenance routine that Garage Door Repair Natick provides is safety tests. The opener force and travel limit may need adjustment, and so can the garage door sensors. With us, you can rest assured that they'll be set correctly and will remain in optimal settings.
Garage Door Maintenance Pros
Part of owning an automatic garage door is taking proper care of it. If you want the system to last for as long as it can, some maintenance is required. With the service appointments Garage Door Repair Natick provides, your overhead door will avoid plenty of problems. It will operate smoothly and more quietly. Any part that's nearing the end of its run, will get replaced in favor of a more durable one. Schedule a garage door maintenance service at your convenience. Make your garage door last.
Give our team a call if you need help with:

Overhead Garage Doors

Genie Garage Door Openers

Garage Door Opener Maintenance

Broken Garage Door Spring Replacement