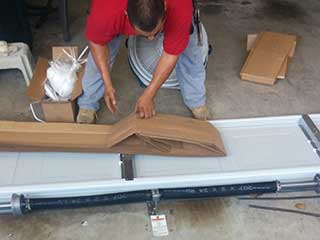 A complicated system like a garage door can malfunction in all kinds of different ways over time. If your door is showing signs of wear and tear or, has already completely broken down, it's likely you'll need an expert to assist. That's what our team is here for!
Fixing Openers Of All Types
Garage door openers can malfunction for a number of reasons. For example, if you have a broken trolley or main gear, your opener won't be able to open the door. Rely on us to troubleshoot the problem you're experiencing and replace any part responsible for your inconvenience in the shortest possible time. Similarly, the moment you notice strange behavior like the door repeatedly opening and closing, it is probably a good idea to call a professional as this can indicate a safety problem with the sensors.
Dealing With Worn Or Broken Panels
Steel doors are solid but can get rusty if they don't receive proper attention & protection. Wood is even more vulnerable to water damage, and this damage can spread quite quickly given that the material is porous. If you notice any kind of damage to your panels, count on us to provide a repair or replacement as needed. Undoubtedly, rotting wood is one of the most difficult issues to deal with, but we have an effective solution for it. By removing the damaged sections, filling them and sealing them, we can make your door strong again. If the damage is extensive, rely on us to source the right replacements and fit them for you with minimum hassle.
Reliable Spring Replacement Services
If one or more of your springs breaks, you'll no longer be able to use your door in a functional way. We know this is usually an urgent problem so let us know you need help right away and we'll get the problem fixed for you as soon as possible. We also provide periodic maintenance services and can adjust and lubricate these components for you as time goes by.
Dealing with a garage door malfunction or breakdown? Why wait, contact our repair experts in Natick for help right away.
Count on our team for:

Extension Spring Adjustment

Screw Drive Opener Replacement

Galvanized Torsion Spring Installation

Torsion & Extension Spring Adjustment