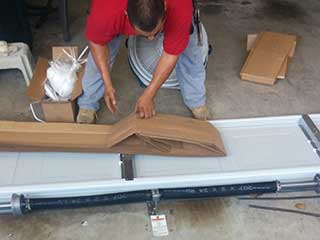 A complicated system like an automatic overhead garage door can malfunction in all kinds of different ways. If your door is showing signs of wear and tear, for example. Or if it completely broke down. It's likely you'll need an expert to assist. If you have garage door problems, you should contact our repair technicians in Natick. Get help from the best spring and opener pros near your area.
Garage Door Opener Repairs
You automatic garage door opener can malfunction for a number of reasons. For example, if you have a broken trolley or main gear, your opener won't be able to open the door. Rely on us to troubleshoot the problem you're experiencing and replace any part responsible for your inconvenience in the shortest possible time. Similarly, the moment you notice strange behavior like the door repeatedly opening and closing, it is probably a good idea to call a professional as this can indicate a safety problem with the sensors. The best opener troubleshooters in Natick are already nearby.
Dealing With Worn Or Broken Panels
Steel doors are solid but can get rusty if they don't receive proper attention & protection. Wood is even more vulnerable to water damage, and this damage can spread quite quickly given that the material is porous. If you notice any kind of damage to your panels, count on us to provide a repair or replacement as needed. Undoubtedly, rotting wood is one of the most difficult issues to deal with, but we have an effective solution for it. By removing the damaged sections, filling them and sealing them, the experts from Garage Door Repair Natick can make your door strong again. If the damage is extensive, rely on us to source the right replacements and fit them for you with minimum hassle.
Reliable Broken Spring Repair Services
If one or more of your springs breaks, you'll no longer be able to use your overhead door in a functional way. The service team at Garage Door Repair Natick knows this is usually an urgent problem so let us know you need help the moment you notice something wrong. Broken garage door springs should not be messed with, especially if you lack the experience and training to perform the necessary repairs. Leave all your spring replacement or adjustment needs to the experts closest to you (us) and avoid risky situations and collateral damage.
LiftMaster Opener Troubleshooting and More
Repairing overhead doors requires knowing a lot of practical information and how to apply it. When the garage door opener is not closing or opening, for example, you need to be able to identify the source of the problem. Are the garage door sensor lights blinking? Is one green and one red? Whether you have a LiftMaster opener model or one made by Genie, Amarr or some other brand, Garage Door Repair Natick will troubleshoot and solve the issue. Things like bent tracks and a garage door roller that pops out are all scenarios well known to us. From sensor realignment to some other type of opener repairs, any garage door service you need is available. Anyone near Natick and the surrounding areas can call on us for help.
Emergency Repairs When You Need Them
Dealing with a garage door breakdown? Springs look worn and need replacement or adjustment? The nearest service company, Garage Door Repair Natick, has the experienced pros you need to fix the problem quickly without charging you the worth of a new door for the service. Contact us any day of the week for same day repairs.
Extra Information:
My garage door won't open all the way. How come?
There could be a jam in the door's tracks or drive system, or a broken spring or a snagged or frayed lift cable. It's also possible that there is a problem with your opener's force and travel settings, causing it to "think" that your door has finished opening when it actually hasn't. If the garage door is listing to one side, its probably a spring, cable, or track issue. Otherwise, the opener or drive is probably at fault. In any case, you're advised to seek professional help from a nearby garage door repair technician.
Garage door is stuck what do I do?
If your garage door is stuck closed, open the manual release (it should be a red handle or cord) and see if you can pull it open by hand. If the door is stuck open, wedge something underneath it before releasing, so that you can lower it slowly to the ground instead of letting it fall, and be careful to stand clear. Whether or not the manual release solves your immediate problem, you should get professional help as soon as possible. Some garage door problems are very risky, and should be left to the experts whenever possible.
Why does the garage door close part way then opens again?
If this is happening, there is most likely an issue with your garage door sensors or with the opener emergency reverse feature. Check the lights on your photo eye sensors to make sure they aren't blinking. If they are, you need a sensor realignment. If not, you most likely need some work done on your garage door opener. To avoid causing extra damage to the different garage door parts, it's best to let an expert handle the situation.
Count on our team for:

Extension Spring Adjustment

Screw Drive Opener Replacement

Galvanized Torsion Spring Installation

Torsion & Extension Spring Adjustment