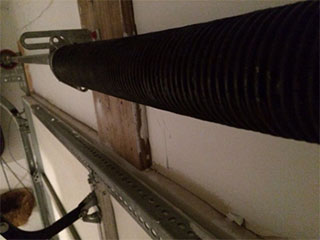 If your garage door springs are significantly worn, this will disrupt your door's ability to move smoothly up and down. If they're completely broken, you won't be able to use your door at all. Luckily, these issues can be resolved in a simple way by replacing worn components. You shouldn't try handling anything by yourself - this can be dangerous. Broken garage door spring repair is complex, and require expertise and experience to perform safely. Leave this sort of stuff to Garage Door Repair Natick, your nearest service company.
The Difference Between Torsion And Extension
There are two different types of spring commonly used in garage door systems, torsion and extension. Both types are used to support the door's weight and mobility. Torsion springs typically come as a single unit located above the door while extension types are smaller and as a pair, one attached to both sides of the door. Regardless of which type you have, Garage Door Repair Natick has the necessary experience to adjust or replace the component.
Worn Garage Door Springs
It's essential for your overhead door springs to be fitted with the right level of tension. If you find your door starting to close more quickly than expected, this could indicate that some of the tension has been lost. Due to the constant stress these components are under, they are bound to wear and tear slightly after a period of time. Once used beyond their limits, garage door springs won't be able to function properly anymore and will simply require replacement. If your springs are significantly worn show deformed coils, it's best to address the problem sooner rather than later. Avoiding extra wear and tear on your garage door spring is a must if you want to extend the system's longevity.
Preventing Dangerous Accidents
A spring that breaks suddenly can be very dangerous for you and those nearby at the time. It can also be very irritating when your door becomes stuck and inoperable. These problems can be avoided with the help of our skilled and experienced team – through regular maintenance visits, Garage Door Repair Natick can help make you keep these components well-adjusted and lubricated. In the end, the better care you give your springs, the less likely they are to prematurely wear and break.
Broken Spring Repair Experts Near You
When dealing with overhead door spring problems, it's important to receive urgent assistance to avoid exacerbating the situation. That's why contacting Garage Door Repair Natick for any broken spring related need you have is a good idea. You want to avoid attempting to DIY the problem, as garage door springs are likely to whip around due to the high amount of tension they're under. They can cause real injuries if you're not careful. Leave all garage door spring repairs to pros and avoid getting hurt or damaging some other part of your door.
The Closest Garage Door Pros
If you are looking for an excellent automatic garage door spring repair and replacement service company, look no further. Garage Door Repair Natick offers same day repair solutions on a daily basis, including Saturday and Sunday. Your broken spring will quickly vanish, replaced by a durable new unit capable of supporting the weight of your overhead door.
More Information You Can Use
How long do garage door springs last?
A garage door spring's lifespan is best measured in lift cycles rather than time. The more often you open and close your garage door, the sooner you'll need new springs. Extension springs usually last about 5000 - 7000 opening and closing cycles, while torsion springs tend to last 10-15,000. In practice, this means that the average owner who opens and closes their garage door 2-4 times per day can expect 4-7 years out of an extension spring and 7-10 out of a torsion spring. This estimation takes regular maintenance into consideration. Without that, garage door springs will break much faster.
Can I replace a broken garage door spring myself?
You should avoid touching your garage door springs unless you've had vocational training for dealing with them. Garage door springs retain some very high energy tension, and broken ones can still hold considerable stress in some of their remains. If a spring snaps out, or worse yet goes flying, severe injuries and property damage could be the result. If there's one part of your overhead garage door that you want to leave for the professionals, it's the springs. When they whip around they can cause serious lacerations.
How can I tell which type of garage door springs I have?
Extension springs are mounted on flexible cords, and point away from the garage door and extend toward the back wall of the garage. Usually, they'll be running along the overhead parts of the door's horizontal tracks. Torsion springs are mounted on a rigid metal bar or spindle, and run along the top of the garage door, parallel to its length. Some systems only use one torsion spring, and some even use a combination of extension and torsion units. The latter one is much rare, though.
Our team can also take care of:

Broken Cable Replacement

Garage Door Tune Up Services

Torsion & Extension Spring Replacement

Door Opener Troubleshooting Services