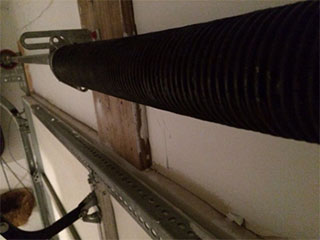 If your springs are significantly worn, this will disrupt your door's ability to move smoothly up and down. If they're completely broken, you won't be able to use your door at all. Luckily, these issues can be resolved in a simple way by replacing worn components. You shouldn't try handling anything by yourself - this can be dangerous.
The Difference Between Torsion And Extension
There are two different types of spring commonly used in garage door systems, torsion and extension. Both types are used to support the door's weight and mobility. Torsion springs typically come as a single unit located above the door whileextension types are smaller and as a pair, oneattached to both sides of the door. Regardless of which type you have, our team has the necessary experience to adjust or replace the component.
Worn Out Springs
It's essential for your springs to be fitted with the right level of tension. If you find your door starting to close more quickly than expected, this could indicate that some of the tension has been lost. Due to the constant stress these components are under, they are bound to wear and tear slightly after a period of time. Once used beyond their limits, they won't be able to function properly anymore and will simply require replacement. If your components are significantly worn, it's best to address the problem sooner rather than later so no additional stress is placed on other parts of your system.
Preventing Dangerous Accidents
A spring that breaks suddenly can be very dangerous for you and those nearby at the time. It can also be very irritating when your door becomes stuck and inoperable. These problems can be avoided with the help of our skilled and experienced team – through regular maintenance visits, we can help make you to keep these components well-adjusted and lubricated. In the end, the better care you give your springs, the less likely they are to prematurely wear and break.
Call Us Today
If you are looking for an excellent repair and replacement service for your broken springs, call our professional team at Garage Door Repair Natick. You can depend on us to get the job done right!
Our team can also take care of:

Broken Cable Replacement

Garage Door Tune Up Services

Torsion & Extension Spring Replacement

Door Opener Troubleshooting Services