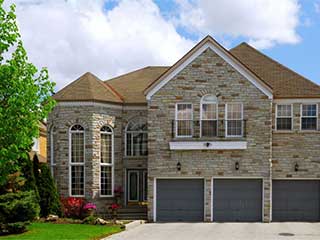 Garage doors come in all types of different materials. This is why many homeowners find it hard to choose which one best suits their home. If you're currently going through the process of choosing the right door for you, it will definitely help to know more about the various materials available to you.
Steel - Versatile & Strong

Among the materials available today, steel is very popular. For one, it is reasonably priced, low maintenance, durable and comes available in a variety of styles. It can even mimic the texture of wood, underlying the versatility it offers!. When considering a steel door, it is important to take note of two important things in particular: the level of insulation necessary in order to save energy and the thickness needed for durability's sake.

Wood - Traditional & Beautiful

You probably know that wood was the first material ever used for a garage door. It continues to appeal to those who are looking for a traditional style and can significantly enhance the curb appeal of a house, increasing its value over time. What's important to note with this type is the level of maintenance needed as time passes to keep rot at bay - probably not the best choice for areas prone to lots of rain or homeowners averse to maintenance!

Fiberglass - Light And Resistant

Another type of material that remains a popular choice is fiberglass. These panels can be easily painted, offering a range of looks, and also offer high resistance to dents. This material is also light, which can be useful but not in particularly cold areas - it tends to be a poorer insulator and can also fade when exposed to the elements over a long period of time. Still, it is more resistant to water corrosion than wood.

Wood Composite - Durable & Smart

Wood composite materials come from recycled wood fibers and usually consist of a uPVC steel reinforced frame. They have the texture and look of wood but offer more durability and the strength of steel. This type of door can also be stained or painted fairly easily, providing resistance to rotting and wear.
Allow Our Experts To Help
Being aware of the different materials on offer for garage doors is definitely an advantage when it comes to making a decision. Nevertheless, it's still important to seek professional advice before making your final decision. Our team in Natick are on hand to help!