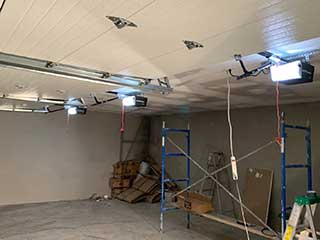 Garage door openers come in a few different shapes and sizes. There are plenty of models available, from all sorts of major brands. But most garage door openers on the market today use one of a handful of drive system types. Of course, that is not the only thing you need to consider before choosing a new garage door opener. There are all sorts of other factors, like noise level, horsepower output, and more. Here are some of the main topics you need to factor in before choosing a new garage door opener. Remember, Garage Door Repair Natick services all nearby areas. Be sure to let us know if you need help choosing a new garage door opener for your home.
Garage Door Weight
First and foremost, your new garage door opener needs to support the weight of the door panels. A steel garage door or a wooden one will be heavier than an aluminum and vinyl door models. That means the openers used to move them will need to have a higher horsepower output.
Available Opener Installation Space
Just like different garage door types have certain space requirements, so does a garage door opener. The main requirement is backroom. While headroom is also important, backroom (how much space is available from the door towards the inside of the garage) is more important here. There is a certain minimum of space required to have most types of openers installed. The only type that doesn't require this minimal backroom space is the jackshaft garage door opener.
Garage Door Opener Type
Now we're getting into the meat of it. The type of garage door opener you choose depends on its specific attributes and how well they fit your needs. There are four main types of openers, with a plethora of different models by different brands like Genie and Sears and so on.
Chain drive opener – models of this type use a chain, as the name suggests, in order to pull the garage door. A chain drive opener tends to be reliable and durable. Generally speaking, it's also usually the cheapest option. However, a chain drive opener is the noisiest of the main options. The use of a metal chain also means more maintenance is required (lubrication and adjustment).
Belt drive opener – this type works the same as a chain drive opener, with the exception of using a reinforced rubber belt. That means it's incredibly quiet and operates smoothly. The main downsides are a higher price range and potentially some force restrictions for doors over a certain weight.
Screw drive opener (a.k.a direct drive) – this type of opener uses a threaded rod connecting the motor unit and the door more directly. A screw drive opener consists of fewer moving parts, so it's faster and doesn't require a lot of maintenance. It still needs a little lubrication to reduce its noise output. Price range is a medium between chain and belt drive options usually.
Jackshaft opener – this is the type of garage door opener that's commonly used when backroom is minimal. It's a wall mounted opener that sits on the torsion spring (which means your door needs to have one. It uses the spring as part of its drive system. It's usually not as strong as other types, due to the fact that its drive system is different.
DC vs AC Garage Door Opener Motors
Some garage door opener models come with either an AC or a DC motor (alternating current and direct current, respectively). Each type has certain pros and cons that make it better or worse for your needs. DC motors usually cost more and are more powerful, but AC motors tend to start and stop much faster. There's a lot more that goes into it, of course, and there are all sorts of DC and AC motor types. It's best to consult with professional garage door opener installers about this to understand which option better serves your needs.
WiFI and Remote Controls
A garage door opener with remote controls is the basic package. But there are a lot of other control options you can opt for. The MyQ method that works with Chamberlain and LiftMaster opener models allows you to use your smartphone as a control device. It also allows you to monitor your garage door and operate it from practically anywhere. There are other apps of this type that operate with different kinds of opener models that utilize smartphone connectivity. For those who want garage door clickers and handheld remotes, the model of opener you choose will determine which kinds you can get.
Special Opener Features
Different garage door opener models have extra security and convenience features to offer. There are digital lock options (sometimes known as 'vacation mode'). There's rolling code technology, which is a significant security enhancement. There are also battery backup options which some opener models come with. These are great to ensure you can keep using your automatic garage door during power outages.
The Brand Name
While with some things brand is regarded as only a social status symbol, with garage door openers that isn't the case. Here the brand ensures reliability and quality. While there are cheap garage door opener models available, the word cheap is a two edged sword in this context. Sometimes something cheaper is literally cheaply made, and breaks down quicker or runs in an unreliable way, leading to you needing more opener repairs. But know this – most garage door opener brands have a range of products which make them suitable for all sorts of budgets. Speaking of which…
Set Your Budget
How you're willing to spend on a garage door opener is one of the most important things to consider. Choosing a budget will help you narrow down your range of available options. Since there are so many available, this is actually a good thing. Choosing a new garage door opener is hard enough without having to consider every possible model. So eliminating some of the options that don't fall into your budget range will make the decision process a little easier.
Consult With a Garage Door Opener Pro Near You
If you're looking to buy a new garage door opener, it's always a good idea to do your research. But if you want to ensure you're getting the best bang for your buck, it's helpful to seek some expert assistance. Garage Door Repair Natick offers opener installation services and will happily help you choose a new model for your door. Contact us to get a new garage door opener installed by local professionals you can trust.